Did you get bored from searching or simply want to find some best speed bags for your combat training / boxing practice. As a boxing player I know it is quite difficult for quality lover to find best exercise tools, especially speed bags. But, don't worry, you are the luckiest person to just choose among a varieties of top speed bags I reviewed here for you.
The Optimum Speed bag is an essential element for cultivating fast and efficient responses. It enhances your punching and eye coordination, which are major factors in any combat player's successful career. However, choosing the right type of speed bag is also as important as its workouts benefits in combat sports.
Whether it's Tyron Woodley, Tyson Fury or any other champion. Speed bags workouts are one of the main factors that makes them very efficient.
In order to give you a good guide, I have reviewed and categorized some of the best speed bags. These bags will be very useful for your daily exercise and can give you the opportunity to become a fast boxer or MMA giant.
Best Speed Bags for Boxing
If you are looking for a speed bag made of real cowhide leather, welcome to join the nearly 1,500 users of this quality exercise tool. It is one of the most acclaimed hot-selling products on Amazon, earning 4.7 stars (out of 5 stars).
The reason I like it is its fast performance due to the lightweight latex liner that can provide you with a good balanced rebound. Its structure allows it to perform well in possible balancing movements. Its best simple design is also suitable for home or gym use.
I chose this bag because of many factors, but some vivid features are very great i.e. its 100% real cowhide leather and durable quality. The extra quality is its hand-made and seam-reinforced structure. Therefore, if you want a durable and excellent speed bag, then considering Meister SpeedKills may be your best choice for exercise.
Cleto Reyes x-small is another hand-made speed bag that allows you to excel your quick punches. This bag is manufactured under strict quality control supervision to make it more durable and long lasting. Thanks to the head leather and the use of tough nylon lining, it can withstand the greatest strength.
With the help of this bag, you can improve your reaction ability and coordination, as well as strong muscle strength. It can help you achieve your sports or fitness goals by serving you for a long time. This lightweight and durable bag is a special tool for commercial gyms, but it is also practical and easy to install for home gyms.
During my research and use of this Cleto Reyes speed bag, I came to the conclusion that it may be your best choice for exercise. Its outstanding functions and high-quality materials are beyond doubt.
By choosing the right size bag for your training and practice, you can easily satisfy your boxing enthusiasm. it is available in different sizes of super small, small and medium. In addition, its affordable price allows you to choose from three different colors and designs in black, red and Mexican style.
This RDX speed bag can be another best companion for your boxing training. It has 4 layers of Polycotton lining and made of cowhide leather. Each of its balls is individually produced and balanced for maximum performance and durability. The use of high-quality materials and craftsmanship make it a perfect exercise tool for the players of MMA, Muay Thai and other combat sports training.
Its lightweight design is very suitable for fast rebound and strong performance. The seams of the bag are flat and smooth. This standard bag is equipped with an RDX Elite swivel made of high-quality stainless steel and bearings. However, most users are a bit dissatisfied with the loudness of the rotation.
This bag has double lining straps and is fixed firmly with rivets, which is very durable and not easy to crack or get split like most speed bags. It has a smooth hitting surface, which brings a good feel and balanced performance.
Its eye-catching design comes in two different colors, yellow and white. Therefore, based on my research, you can include this speedbag in your favorite list as a good choice.
Pro Impact is currently another best choice to compete with RDX. Its quality and durability have made it increasingly the most popular speed bag. It is made of genuine leather and stitched with triple reinforced seams to ensure its integrity. The airbag included is made of high-quality latex, and it remains inflated for repeated hard punching.
For developing your reaction ability and muscle strength, this pear-shaped speed bag is very beneficial. As a beginner, intermediate or professional, you can easily choose among available sizes to satisfy your needs. The leather of this bag is very thick, which is especially suitable for shoulder. It is useful for personal hard beatings at home and in commercial gyms.
Best Speed Bags for Beginners
Venum is a durable manual speed bag that provides the best response and hand-eye coordination. Its smooth surface and eye-catching design are perfect for beginners. The high-quality and durable airbags of this speed bag are great. If you are a complete beginner or just started training, this bag can accompany you for a long time.
High-quality Skintex leather is stitched together perfectly, keeping the seams smooth and strong. Its fixing belt is stitched firmly and fixed with riveting attachments, which will not cause any tearing for a long time.
Due to the overall performance, this bag is worth considering. Its smooth hitting surface is conducive to sliding movement, and its black/ice color is very attractive to the eyes. You can also exercise without wearing gloves, especially as a beginner athlete, it can serve you well.
This 9.5 x 7 standard size is Hunter's most demanding speed bag, mainly used for boxing, especially entry-level. Its real cowhide leather has great potential for elasticity and durability. The cool-looking black design and the external shady surface are charming and attractive.
Its long-lasting latex liner allows a long time to be used and can provide you with long-lasting performance. It is equipped with a sturdy and professional anti-fouling steel swivel. The hanging swivel is equipped with bearings, which can move freely and produce rhythmic flow according to the direction of force.
This bag is actually constructed scientifically, and the leather inside is lined with 4 layers of poly-cotton material. This structure makes it strong and durable and maintains its shape after repeated impacts. Its quality and structure can provide you with balanced rebound accuracy during your training workout.
The Hunter Speed bag is a light-weight and sturdy punching bag. It is not only suitable for boxing practice, but many players are using it for MMA and Muay Thai practice.
Its satisfactory results while using it at home and gyms is making it the best speed bag for beginners. Therefore, if you are looking for an affordable and durable speed bag, then this may be your next choice.
Ringside Apex is a lightweight faux leather speed bag designed for boxing, mixed martial arts and Muay Thai training. Its excellent tear-shaped design, elasticity and thin liner make it a fast bag. Its smooth shiny surface is easy to clean and provides a comfortable touch. The synthetic leather sheet of the bag is precisely cut through the air and combined with triple stitching.
The bag's triple stitched seams provide high retention for its high-quality latex airbags. Its airbag can keep air for a long time and provide uninterrupted deflation. The loop of the bag is strong and thick, providing maximum grip and quick rebound effect.
The design of different sizes and color schemes are very compatible, which can enhance good hand-eye coordination. In short, the overall structure is strong and flexible enough to provide you with a good exercise, especially as a beginner.
Therefore, if you are looking for a speed bag that can bring the maximum effect to your boxing, mixed martial arts or Muay Thai training, then this bag can be your good partner in the gym.
Title Speed Bag
Title boxing is a well-known brand that produces high-quality speed bags for aerobics enthusiasts. However, the title gyro balance speed bag is the most popular among users. Its high-quality structure using durable materials is the main reason that sports people love it.
The outer shell of this bag is made of the best leather. The triple stitched seams are firmly reinforced to maintain and withstand the pressure of the airbag. Its professional airbag is made of butyl rubber, which provides excellent elasticity. In order to obtain excellent performance, the bag is internally balanced.
As the name suggests, this gyro balance speed bag is different from ordinary bags because each one is produced using gyro technology. The use of this technology greatly enhances the ability to balance every angle and movement of the bag to obtain the maximum effect.
This Title speed bag is very suitable for improving your precise punching, eye-hand coordination and enhancing endurance. It has 3 different sizes to choose from, for beginner to professional boxers, that can accompany you to exercise at home or professional gyms.
If you want to be a better hitter, then Title Boxing Super Speed bag can be your good partner. Its sturdy leather shell can withstand your heavy blows without any excuses. It is also suitable for home gyms and commercial gyms.
According to my experience and feedback from various users, this speedbag can be used for more than 6 months through continuous practice. However, its use also varies from user to user.
This super sturdy bag is the crystallization of a variety of structural characteristics. Its high-quality leather is stitched with triple stitching. The loop of the bag is wrapped in a quadrilateral shape, which can provide long-lasting support. The flexible inner liner can hold air tightly and provide good bounce.
If you are a beginner then it might not be suitable for you because of its toughness. However, for intermediate and professionals it is a great exercising tool. This super speed bag is available in 5 different colors and in 5 different sizes.
The title lightning speed bag has a perfectly symmetrical shape and a balanced speed punch tool, suitable for players of all levels. The combination of black and white aerodynamic shape and decorative design makes it the most eye-catching and fastest bag. By practicing boxing exercises, you can increase your strike speed to a huge level.
The structural design of this speed bag makes it unique and durable, suitable for daily heavy exercise. Its design includes the center and bottom patches wrapped in the widest part to achieve a good balance and advancement. The white and black surfaces are decorated and welt with red seams to provide obvious visibility during exercise so that you can better target them.
In my opinion, a person with a little boxing experience may get more results from this bag. However, it can also provide the best service for novices and professionals.
According to my experience, this bag is excellent in terms of long-term durability. The only thing I suspect is that its black bladder can't provide me with a lot of bounce. So, if you want to add a speed bag to your arsenal, it should be durable and save some money, then this might be a good choice for you.
Again in my closing remarks, for experienced people, this may be a best speed bag to improve their accuracy and develop their attack power.
Wall Mount Speed Bag
This is a wall-mounted speed bag, using high-quality leather and metal brackets, which remain unchanged after thousands of impacts. Its super durable spring strongly connects and secures the bag to prepare for rapid rebound without deformation.
The Hicient Reflex speed bag and wall mount come with a complete set of accessories. It is easy to install in a home gym or office. Its fixing is easy and safer. Using the provided 4 screws, the base of the mount can be easily fixed on the wall or floor without worrying about any dangerous situations during the exercise.
The design, durability and function of this wall-mounted speed bag are very different from other speed bags. It is suitable for all age groups from 13 years old and beyond. This bag not only meets the standards of a speed bag, but also serves as a tool for you to relieve stress and lose weight. Its super-fast speed and elasticity are the pleasurable characteristics of boxing and other similar exercises.
This speed bag is almost similar to Hicient model but offer a little extra as a guarantee. The Elifine is acclaimed to be more strong and durable speed bag without causing issues before 1,20,000 times heavy strikes. The reason behind this acclamation is its super sturdy structure, design and use of quality materials.
The complete set of accessories of Elifine consisting a synthetic leather ball, a strong base with 4 steel screws, a high-tension absorbing power spring and an air inflating pump. Its 10 minutes installation by fixing it on a wall or appropriate place with 4 study screws is quite easy.
You can satisfy your speedy workouts and enhance your eye hand coordination with this rapid bouncy speed bag. It is useful for boxing professionals at home or commercial gyms as well as it is an appropriate exercise tool for relieving stress at office or other workplaces.
In all respect this speed bag can accompany you well to its best for a long time without any damage and deformation.
For boxing and fitness enthusiasts, this spinning bar with speed ball is a special and attractive exercise tool. Its scientific design makes it a favorite for people who like to improve hand-eye coordination, reaction ability, timing and footwork in games. Its upgraded version provides more training methods to improve boxing skills.
The complete set of the speed bag and the rotating rod is made of durable and long-life materials. It is not only easy to install, but its structure can also be selected to save the space fixed along the wall. Just loosen the screws slightly and the rod of the bracket can be folded toward the wall.
Innolife's 60 cm long rotating spinning bar can move freely 180 degrees to enhance your strike and side strike defense. The 20 cm long and durable speed bag can withstand strong impacts, and the sturdy spring has the ability to move 90 degrees flexibly and rebound quickly.
Through my research, this complete setup is much better than any other separate speed bags. Because this is an innovative exercise tool, especially suitable for boxers who want to improve their angles and speed strikes through a strong defense.
However, the price of this whole item is a bit expensive because it is a new tool of quality and durability that only those who can afford it can consider.
Best Speed Bags for Home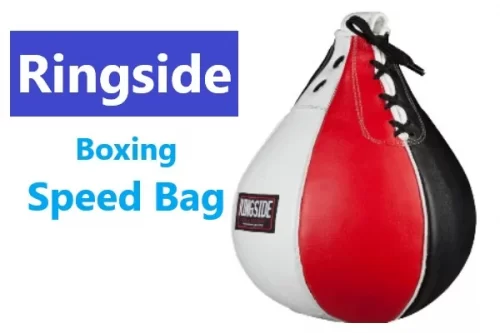 Home gyms always need some durable types of exercise tools and equipment that should last a long time. In a similar situation here, the Ringside boxing speed bag is one of the most durable bags suitable for home use. Its high-quality tough leather can provide you with time beyond your expectations. For serious athletes, it is an eternal training tool.
Its sturdy structure uses high-quality genuine leather with triple stitched seams. The light-weight latex leather, making it very effective in recoil and rebound. In addition to the fastest rebound of the bladder, its loop has also been reinforced and wrapped to provide long-term wear. Its attractive design and shape can be tracked and positioned during fast movements to cultivate hand-eye coordination.
Based on my experience with a set of clear combinations, you can use this bag to easily improve perfect shots. In order to enhance your punching rhythm and develop your punching power or just for fitness, this bag can provide you with the greatest effect than other bags.
Not only it is useful at home or in the office, but most athletes I know use it and are satisfied with it in commercial gyms. All in all, at a reasonable price, you can enjoy your workouts to your heart's content, leaving you with no worries for a long time.
This new brand of speed bag has not undergone much user experience, but its quality and long-lasting features make it a compilation tool in this review. Its handcrafted structure and the use of genuine leather provide a quality that is hard to beat, repeated percussively for a long time.
From boxing beginners, Muay Thai or MMA learners to professionals, everyone can use this durable bag to improve their skills and speed. Especially for beginners, the brand provides a free video supplementary training course, by just scanning your QR code.
This is a symmetrical handmade speed bag with superb craftsmanship. Through the use of high-quality soft leather and reinforced seams, this bag is durable. Ultra-durable liner is its main feature, which should be used for fast movement and rebound.
I am not going to explain the benefits of the speed bag, in short, this is a bag recommended by a gym partner to include in my review. The red, black and white color scheme of this bag is not only attractive, but also serves as a visual target. Its quality and durability can guarantee your satisfaction and make your workout enjoyable.
This medium Everlast speed bag is designed for mid-level adult boxers. However, it is also available in a larger size of 10″ x 7″, suitable for novices and beginners. It has a balanced structure that can achieve accurate rebound and accurate recoil. For your muscle tone and endurance, it can be an excellent partner for the home gym.
This bag is made of high-quality genuine leather and combined with reinforced internal stitching for durability. It has a centered and balanced structure that provides precise accuracy for your strikes. The length, thickness and elasticity of the bladder make it a unique and popular speed bag for players.
The smooth hitting surface of this teardrop-shaped ball can greatly enhance your combination practice and hand-eye coordination. It can provide you with more services than ordinary bags, and it can exceed your expectations without being deformed or damaged. Based on feedback from a large number of users and my research, this bag may be a great choice on your home gym list.
Buying Guide
What Main Features Consist a Best Speed Bag?
There are two main aspects to choosing a speed bag for exercise. On the one hand, it is aimed at the user's exercise type and skill level. While on the other hand it is purely about the type of materials and good characteristics.
However, most of the users know the first type, so as a buying guide, I will explain the necessary features and items that should be considered before purchasing the speed bag as follows.
Price and durability
First of all, if you need durable products, then price is the main factor, because the high price of the product adds value. The value of the speed bag lies in its repeated use and long-term durability.
At present, there are many types of speed bags with different materials. If you can afford high prices, you must choose a bag made of leather. If stitched properly, the original leather is very tough and very suitable for heavy exercises.
But, If you can't do it, then you have to choose a bag made of high-quality synthetic leather. The speed bag made of canvas is the last option. It is very cheap, but it is neither good nor recommended.
Standard Size of Speed bag
Choosing a standard size bag is an essential element of your boxing or fitness exercise. Speed bags are divided into various sizes, it is a bit difficult to choose the right one, but the standard sizes of speed bags are generally 4″x7″ and 10″x13″.
Sort in descending order of large, medium, small, and ultra-small, because the smaller the size of the bag, the more speed and endurance you can build. Therefore, always choose the exact size bag according to your skill level, as it will relatively affect your performance during exercise.
Balanced structure
The symmetrical structure of the speed package is also an important feature of the speed package. A speed bag with a balanced structure can always create your precise strikes and easy target acquisition. If your goal is to become a good boxer or fighting athlete, then an unbalanced bag can ruin your performance.
Now there are two main methods of making bags quickly, one is machine processing and the other is hand-made. However, no one can completely prefer one. All perfection lies in the technology and process experience used by the manufacturer. Therefore, it is important to understand the method of making a specific speed bag and the process experience behind the final product.
Quality Bladder
A flexible airbag is an essential part of the speed bag. However, the quality of the bladder is more important for longer and productive use. There are different types of bladders and the liner with good performance is a latex bladder.
Latex airbags are deflating and need to be re-inflated regularly, but compared to other materials, bladders made from this type of material are more durable. Other airbags are made of butyl rubber and plastic, and the price is lower, but the quality and durability are poor.
In particular, avoid using plastic liners. If your budget is too low, butyl bladder can also provide you with some good performance after latex bladders.
Easy setup and Reusability
In the process of continuous practice and training, the speed bag bladder is often damaged and needs to be replaced with a new one. However, some mechanically manufactured bags lack reusable features, and users are still at a disadvantage.
Compared with the purchase of a new speed bag which depends entirely on the user's budget, the cost of replacing the bladder in an existing bag is lower. Therefore, the bag you chose should include the convenience of installing new bladder, because this is an important aspect that should be considered before buying a speed bag.
Good looking Design
Whether you are exercising at home or in a commercial gym, the design of the speed bag is very important. The eye-catching bag design always beautify the workout site and attracts players. This feature is useful to me because preparing muscles for boxing, fighting sports or fitness enthusiasts is a very difficult job.
Most athletes often lose motivation to continue practicing. So, in this case, a good-looking speed bag can easily attract you to rejoin your practice.
Frequently Asked Questions (FAQ's)
I have tried my best to provide you with information and analysis about the top Speed bags and its buying guide. I hope you will find it useful. Please let me and my team know about the research and efforts we have done for you. You can also share your experience regarding your speed bags workouts through comments. Your valuable suggestions and feedback will be greatly appreciated.
Also Read 👉 Benefits of Speed Bag Workouts
Stay fit and healthy,,,,,,
Thanks for visiting fitnessumpire