Free standing punching bags are the best practice tools for boxing adopted by many gyms. Its compact structure and versatility provide hassle-free training for boxers.
These bags are more comfortable, convenient and comparatively easy exercising tools for boxing, combat sports, cardio and fitness boxing workouts. An attractive feature of the free standing punching bag is that it can be use in small places or at home gyms.
However, selecting a quality punching bag is still ignored by many, which becomes problematic later on.
If you are interested in benefiting from my experience and research. I have compiled the following best standalone punching bags after 5 hours of research taking into account all the aspects that a boxer or a beginner fitness lover needs most.
Top Picks– Best For
Workout at Home
Boxing Training
Beginners & Teenagers
Best Free Standing Punching Bags for Beginners And Teenagers
The following stand up bags are best for beginners and teens alike as they take into account all the necessary safety and essentials that a newbie may face.
1. Century Versys Fight Simulator
The main reason for choosing this free standing punching bag for beginners its multi-functionality. Compared with standard punching bags, the super attractive design is made of materials that are more than 3 times stronger. The bag is one size from top to bottom and comes with a pre-filled sand base.
Century Versys Fight Simulator package is mainly designed for martial arts enthusiasts but for beginners it is a much safer choice. With its outstanding shape, you can significantly improve your practicing skill while free striking.
The pre-connected top and bottom robust handles are installed for multi-purpose exercises. By holding the handle of the bag, you can drag, hit your knees, raise your legs, sit-ups, improve resistance band exercises, and more.
You can simply use this well-designed one-size bag. It is not only suitable for adults to get the most advantage from it, but also useful for teenagers and kids of all ages. Without a solid foundation or hard materials like other bags, you can easily transport and use it in the gym, home, indoor/outdoor, or if the space is tight, you can use it in a small apartment.
Therefore, if you want to improve the ground and pounds of combos, improve your skills and technical training, or just want to stand out in aerobics, the Century Versys Fight Simulator can be your workout partner to achieve your fitness goals.
Pros
Cons
Note:- It is worth mentioning that this bag is neither a completely freestanding bag that can firmly endure your strong kicks, nor a heavy hanging bag, but something in between. Although it can serve you well and can stand upright against your punching without bending until you hit a very powerful kick and through.
2. Century Kicking Bag for Muay Thai and Beginners Workout
The Century Uppercut beautiful tapered design makes it ideal for perfect angle kicks, and it is also very suitable for Taekwondo and Muay Thai beginners. It is very convenient and can be used in small places, apartments, gyms, and outdoor places.
The bag cushion is composed of a high-impact foam and high-quality vinyl, which provides great value and long-lasting results. The bag cover has a stable and improved target area. Through the use of high-quality materials, even after a heavy blow, the cover will not show any impact marks.
Its wrapping is more durable than ordinary bags and can be used continuously for a long time without tearing. Therefore, the surface of 20.5 inches in diameter and 26 inches in height can be easily used for long-life quick strikes.
Century Kicking Bag has 7 adjustable height options, suitable for all unisex beginners and teenagers 47 inches to 68 inches tall. Its round base is easy to reposition the bag by rolling and can be filled with approximately 270 pounds of water or sand. The base of 24 inches in diameter and 17 inches in height can provide good stability for hard hitters with pea gravel, water/sand.
In short to my best research, this bag has won high reviews from users of all ages in a short period, and has left its influence on the market. If you want to improve uppercuts, corner kick aerobics, or get intensive training results, then you can consider it without a single worry.
Pros
Cons
Quick Summary
As a beginner if you want a punching that should be usable everywhere, easy to handle and cover your mistakes by providing more safety related options then Century Versys Fight Simulator would be a best choice for your workouts. Conversely, if you want a sturdy free standing bag for your punching and kickboxing workouts, then undoubtedly you can choose Century Kicking Bag.
Best Free Standing Punching Bags for Home
The Dripex bag is covered with a high-quality multi-layer structure. Its striking surface is made of 2 mm thick thermoplastic polyurethane leather, high-density expanded polyethylene foam and an ecological fabric pad. Its incredible durability and comfort can bring good bounce effects.
This bag has a 182-pound balanced freestanding structure and a suitable height of 175 cm, which can be used on any flat surface at home, apartment, indoor or outdoor sports fields. With an ideal height, it is a good choice for adults and teens who are between 47 and 73 inches tall.
The pipe frame is made of stainless steel with a multi-layer structure. It has a stable floor suction cup base. The circular ABS bottom tank is specially designed to be easily rolled up and repositioned. The bottom includes 12 strong suction cups to keep the base from moving. However, filling the base with sand can improve the stability of your self-support on the ground.
Also, combined with the use of a TPU shock absorber and x4 spring, it can withstand 360-degree shock and noise. To strengthen strength training, the bag spring can be easily removed, which will reduce vibration.
This is a light to medium bag, which is very effective for core reinforcement. Because the pad has good resilience, and the swing of the bag is also good, which can help you get into the swing of hitting. Therefore, it is better than an ordinary punching bag.
The bag is sewn well, the springs are also heavy, and the base bolts are large, so they can be attached well. It has less noise and takes up little space, so it can be used effectively in-home gyms or other small places. It is easy to knock down with just water. However, filling it with sand can only make it more stable.
This bag is worth the money…super-fast delivery…very sturdy and easy to assemble. However, most of the users encounter similar types of problems and according to our research this is mainly due to inattention to the user manual.
In short, after my extensive and hours of research, I found that the bag is made of high-quality materials that will give you excellent output performance. The combination of these materials produces a high tear resistance, allowing it to withstand long-term impacts from punches and kicks.
It can give you better force cushioning and minimize the chance of wrist bruise and hand injury when hitting. It is equally beneficial for men and women combat sports enthusiasts. Due to quality it is the best free standing punch bag especially when you compare its low price with other.
Pros
Transport easily
Good fist feels
An amazing stress reliever
Nice stability
Good action, adjustable resistance
Suitable for average height and light users
Super strong suction cups
Super easy to assemble in 20 to 30 minutes
Having well structure and the bottom of the base does not move much
Cons
It is really difficult to fill the base with wet sand.
(Most common issue) The base hole for filling with sand or water is too small. Therefore, sometimes filling without a funnel is not easy and will need your time and patience.
2. Century Wavemaster Original: A Strong Striking Bag for Home Workouts
If you are an adult or person of medium build and are looking for a bag that can accompany you on your fitness trip in your home garage, or can be used as a stress-relieving tool in the office. Compared with other bags, this can be your good choice.
If you are learning or already a champion in martial arts, mixed martial arts, karate, taekwondo and muay thai, then it is a good training tool and a better alternative instead of your opponents. It is convenient and best for home, apartment or small places workouts.
This original stand-alone Century Wavemaster model can be used primarily as a punching bag and kickboxing bag. The hitting area is filled with high-density foam and the surface is covered with high-quality durable vinyl cover, so it can withstand the pressure of hitting and keep its original shape for a long time.
You can hit it with bare knuckles but if it is included in your training, otherwise for striking training development and heavy use a standard pair of gloves will be excellent and highly recommended.
Its average size, exquisite design and versatility are very compact and flexible. Almost all body types with a height of 47 to 68 inches can benefit from it. From the ground, it is 47 inches tall and the total height can reach 68 inches.
In 3″ increments for men, women and children Simply push up or down to easily adjust the height between the two of you. In addition, it is also useful for children who are training to learn to punch or kick at different levels, who are participating in some boxing class or preparing to participate in related competitions.
The bag has a wider base of good quality. It can be filled with up to 270 pounds of sand or water to maintain stability during pounding or kickboxing. Adding water is easy, just attach a water hose to the bottom hole and fill it up, but if you're a heavy hitter and want the bag to stay in its exact position, it's highly recommended that you fill it with sand.
According to my research, if we talk about its shortcomings, it is purely on the user side, because almost two common problems have been reported by most users. Firstly, the bag slides on the ground, and secondly, the bag makes noise during exercise.
If you are interested in this punching bag, it is recommended to fill the base with sand (Before putting the sand make sure it is completely dry). Additionally, put a non-slip mat or rubber mat under it to reduce or completely stop the base from slipping.
Second, if you want this or any bag to be less noisy, cover it with some thick fabric, which will help reduce noise.
This free standing punching bag is a best workout source for students, fitness enthusiasts, or lovers of karate, taekwondo, and aerobics. This bag can fulfill all your combat sports or fitness training need with the feature of height adjustment and space at a low cost.
Pros
Best standing punch bag for a beginner
Great for adult and youth training
Smart shape and beautiful design
Great stress reliever and stamina builder
Can be used by almost every age and gender
Can be used with or without gloves
Good for angle striking
Great for martial arts, boxing, and kickboxing
Portable bag & stable floor base
Adjustable height
Having good structure and quality materials
Easily moveable
Cons
Often When filled with water instead of sand the plastic base slides on most surfaces.
The whole of the base is a bit narrow so without using a funnel it is time-consuming to fill with sand.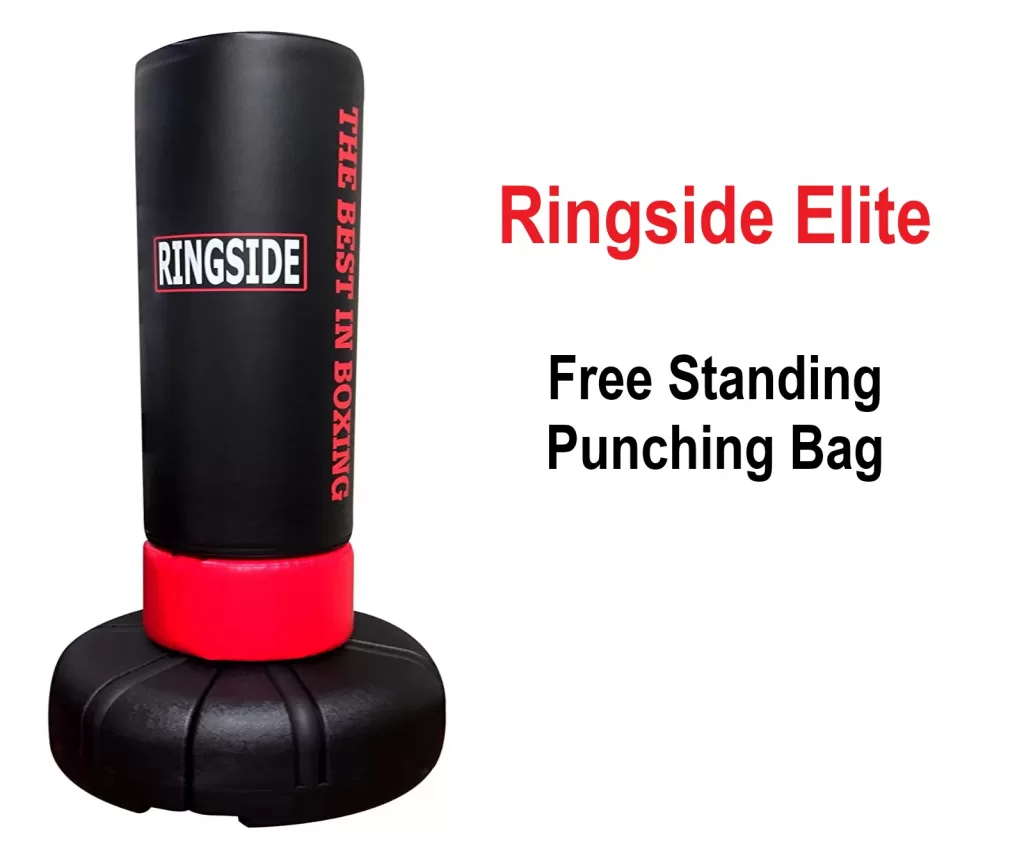 If you can't arrange to hang a heavy bag, then this 65-pound monster has all the characteristics for your sparring practice. This 6-foot-4-inch bag contains high-quality shock-absorbing foam and is covered with durable synthetic leather that can withstand the heavy impact of punches and kicks.
The seamless design includes a removable foam collar and protective bottom pad to adjust bag movement and provide protection when kicking down, respectively. The high-quality, sturdy base has a 270-pound fill capacity of water or sand and can withstand punches, kicks, knee strikes, or hard MMA strikes.
This Ringside Elite Freestanding Bag offers one of the most needed qualities, namely its excellent base stability and little to no structural movement during use. Therefore, before filling the base with water/sand, please set your preferences and specify a positioning place, as the base is difficult to move when full. Also, placing a separate matte or rubber sheet underneath will better avoid the hassle of moving/dragging.
After my extensive research and testing, I found that you can enjoy your workouts using this punching bag. It is a convenient and well-structured boxing tool for home or gym use. For teens and all genders, it is also beneficial to increase your fitness level or improve your health through combat training. After comparing I found that its price is a little higher, but it has more and better quality than other punching bags.
Pros
Full length
A great alternative to heavy mounted bag
Perfect for home and gym
Built solidly
Easy to set up
Outstanding stability and sturdiness
Cons
not pretty suitable for small kids
If you are tired of small punching bags and want a larger striking surface to maintain or improve your aggressive punches, the Century Wavemaster Powerline is great free standing bag for such purpose.
With its largest striking surface at 52 inches tall and 18 inches in diameter, you can achieve your combat or fitness goals. It is equally beneficial for unisex and can also be used for various exercises for good results.
It is easy to assemble and the overall structure is compact, including the hitting bag and the base. The bag is filled with high-density foam and covered with a 2mm thick PU vinyl protector, which has long-lasting performance and anti-tear resistance.
If you want to improve punching power or taekwondo skills, it can withstand your super hard hits without leaving any impact of dents or marks. The large 24-inch base can be filled with sand or water. The weight can reach approximately 270 pounds. (Please note that dry sand is preferred and best filling material for more stability of this bag.)
Its convenient round shape is easy to carry and place in various places for different exercises. You can easily scroll and set 8 times the height adjustment from 47 inches to 68 inches. All genders of various heights, including children and teens, can easily benefit from this free standing punch bag.
I reviewed Century Powerlines as a best free standing punching bag upon three factors. First quality material and design, second one-year warranty and third good customer support.
So whether you're into karate, taekwondo, kickboxing or just want to get your body back in shape through aerobic exercise, this Powerline Wavemaster may be an undoubted workout partner for you.
Pros
Larger striking area
Vinyl cover & High-density foam
Highest standards material
Eight height adjustments
Great for Multipurpose workouts
Cons
Base filling hole is small
Quick Summary
By reading all reviews you may notice that I have picked those punching bags for home workouts that secured a good global ratings. Not only this but considered these bags after interviewing various boxers and fitness trainers.
All the bags mentioned here can perfectly fit in your home or small apartment. By using any one bag you can perform your routine home fitness workouts or boxing training with ease. Just compare your free living area and pick the most suitable design you love and start your positive journey with a super punch.
Best Free Standing Punching Bags for Boxing at Gyms
Just a look and design of a standalone punch bag doesn't give you the best performance for your boxing needs. It is the features and quality of a bag that can build your fighting confidence for the boxing ring. You need a punching bag that should give you complete company during your practice and training for the battle ahead.
Century Bob XL is the best free standing punching bag for boxing, also known as a punching dummy. It is widely used by many professional boxers and martial artists in established gyms and training centers. The main features of the Bob punching bag for its fame are precise improvements in attacking, control and fighting skills.
Its humanistic design gives you the confidence to protect yourself from any aggression or attack from opponents in the game.
It a useful boxing tool for exercise at the gym, apartment, home, etc. Even if you're just frustrated with someone, as an alternative, it's great to slap, because its structure is in a really humanistic way.
Obviously by comparing to other similar punching bags, it is a bit pricey. However, one plus point is that it provides a one-year limited warranty for any irregularities during this period.
Pros
Good punching feel
Great humanistic shape
Easily Moveable
Easy to align
Stretchy and weather-friendly material
Nice to practice specific anatomical shots
Good for angle striking
Good for martial arts, boxing, kickboxing
Cons
The filling base whole is small.
Often When filled with water instead of sand the plastic base slides on smooth surfaces.
This 67-inch Everlast free standing punching bag is designed for unisex adults and allows them to perform well in rhythm boxing and kickboxing. It is more conducive to tactical strikes than being used as a heavy bag for boxing practice.
Its structure is very flexible. You can feel the presence of a real opponent in front of you during the drill, so you can learn and improve your defensive moves.
It has a fairly small base that will not hinder your feet during exercise. The padding of the bag is made of high-quality foam, which can absorb many impacts and reduce noise.
With the up and down movement of the bag connected to the main center pole, different lengths can be obtained with an adjustable height of up to five feet seven inches. The total weight of the base becomes 130lbs when filled with water, but you can fill it with sand for added stability.
You will need a wider space so that you can easily turn about 60 degrees or more. In comparison with other punching bags, it is consisting various qualities. Mainly it is beneficial for practice, and is available at a low price.
Pros
Thick pads
Durable outer shell
Adjustable height
Reasonably small base
Reduce base movements and maximum impact absorption
Low cost
Cons
Nuts and bolts get loose after excessive use and required to be retightened.
If you have doubts about which punching bag to choose? Then FITVEN will be the best choice and easy selection. Because FITVEN has obtained the highest recommended position in our heavy bag research and testing. It is becoming an emerging brand in innovative and durable free standing punching bags. Its qualitative design and production are more and more favored by customers.
The FITVEN bag is primarily a unisex combat fitness tool for adults, but its compact structure is also suitable for teenagers and children (47-73"). From beginning to advanced intensive training, it can withstand your remarkable hits and absorb 360-degree impacts. The shock absorption system consists of double TPU shock absorbers and 04 springs to produce fast rebound effects.
The bag is composed of a buffer layer of environmentally friendly fabric, filled with high-density EPE foam, and multiple layers of high-quality leather. It is supported by a stainless-steel tube and has lasting value. The striking surface uses a layer of leather carefully selected and manufactured to provide tear resistance. You can hit/kick the ball as hard as you can, it won't tilt like other bags or show impact marks.
To solve the most common user dissatisfaction factors, which I found in our research, is related to instability and slippage of the base during exercise. This FITVEN model is launched on the market as a pre-set solution by providing a stable floor suction cup base.
The base is always firmly fixed on the flat floor and smooth surface with 12 powerful suction cups. The 5mm thick ABS base has a load capacity of approximately 205lbs of sand/water, and its circular design provides great comfort for movement.
This bag can meet all your needs and requirements at a very affordable price as a substitute for heavy bags. In addition, including all qualities, it also provides a free pair of 12oz pre-designed anatomical gloves to provide you with professional protection. The gloves are made of 10mm thick foam, which can protect your hands from any impact and you can play with confidence.
Pros
Premium fitness tool
Can be used by adults, teens, and kids (43-73" tall)
Great shock absorbing system
Firm floor sucking base
Sturdy structure and fine design
Long-lasting quality materials
Cons
Filling with water is not quite suitable
The design of this bag shows something similar to the standalone FITVEN style we discussed earlier, but is actually very different from a materials and performance standpoint. This unisex bag is very useful in-home gyms, indoor/outdoor venues and can fit very comfortably in small places. With this, you can improve the production of punching, boxing, taekwondo and aerobics.
The hitting surface of the bag is made of high-quality multi-layer materials from top to bottom. Xsport Pro uses a multi-layer structure to give you better force absorption and minimize the chance of wrist and hand injury.
This excellent boxing equipment is suitable for training in karate, jujitsu and ninjutsu, and other fighting sports. It is also a good stress reliever and strength training builder. Its incredible durability and comfort can bring a good rebound effect and can accompany you as a good partner.
With the help of double PVC shock absorbers and 4 springs, the heavy bag can achieve 360° shock absorption, high rebound and noise reduction. Therefore, less vibration reduces interference, allowing trainers to enjoy high-intensity strength training.
In order to maintain stability, the 5mm thick ABC base of this stand-alone bag is designed with 12 powerful suction cups, under which the smooth surface can be firmly fixed, providing strong grip and stability during heavy hits. The base fill capacity is 203 pounds, but up to 152 pounds is enough for average stability.
This bag is excellent value for money and also comes with a pair of Xsport Pro 12oz professional boxing gloves. These durable gloves are made of high quality synthetic leather and thick inner lining. The anti-sweat hole can reduce odor, and the double wrist design can ensure enough safety on the wrist.
Pros
Compact design
Shock power distribution system
Good sucking base for stability
Super quality material
Also useful for teens (4-6 ft tall)
Cons
For practicing without gloves is not good.
Not suitable for small kids.
Quick Summary
Obviously there are many types of punching bags for different workouts related to fitness and combat sports training but the above are best rated and affordable especially for boxing. Because of its convenience, you can use these bags in your home gym, garage or apartment easily.
If you are still looking for some heavier and sturdier stuff that are mostly used by professionals for their boxing and muay thai trainings. You should definitely look at heavy punching bag reviews.
Best Free Standing Punching Bags [Buying Guide]
Before you get your first freestanding punching bag, following are some important things you should be familiar with to make a good selection.
Type of Exercise: – Be familiarize yourself about the type of workout and your ultimate goal because every free standing punching bag has certain purpose of use.
Types of users: – Always choose a free standing punch bag according to your age because every standalone bag is not a multifunctional or unisex.
Required size and space: – Get a free standing bag which can be easily adjusted to your favorite workout place keeping in mind swing angle and size of the bag.
Material quality: – For getting a good quality standing bag look for the type of material used, environmental protection, structural composition, durability, and long-lasting tear resistance.
Easy assembly line: -Everyone is not a technician, they cannot easily assemble different tools/gadgets. So, if you are of that type, please read the "what" and "how" of the bag assembly carefully, or can seek some help to avoid any trouble during the setup.
Brand and customer support: – Always choose a good brand. Getting your free standing punching bag from a reputed brand can give you a trusted product with best customer support.
How to Set Up a Free Standing Punch Bag and Avoid Problems?
Compared to heavy hanging bags, free standing punch bags are more comfortable in many ways, but the correct setting of the bags is also the most important factor to be considered. After my in-depth research, we noticed some common problems that people encounter which are: –
Read User Manual & Use Appropriate Tools: – It is often found that users have questions about bag imbalance and stand tube breakage. The reason is that the assembly process of some bags is a bit difficult. This can happen if the incorrect tools are used and not adopted the proper setting method.
To avoid this, you may need to carefully read the instructions in the user manual that comes with each product, and use appropriate tools to tighten the screws and bolts correctly. If you are not a technician and do not know how to assemble your bag, it is necessary to ask a technician for help.
Use Suitable Filling Materials: -The next common problem is the instability and sliding of the bag base during exercise. The stand-up punching bag is a relaxed design and there are many options. Similarly, filling the base with different materials (i.e., water, sand or gravel, etc.) is also an optional element for user convenience.
Therefore, when you encounter such problems, be sure to use heavy and strong materials, such as sand or gravel, because these materials provide your bag with excellent stability and less slippage.
Note: – Best sand for free standing punching bag is dry sand that can be found at any nearest home depot.
Final Verdict – What Should to Buy?
As we all know, fighting sports is a broad field, and its practice tools are also many. Especially here we are talking about best punching bags, so according to our experience, freestanding punching bags are more reliable in terms of use, mobility, and other user-friendly features. On the other hand, heavy-hanging bags have their value and should not be underestimated, but they are more demanding and more difficult.
Both types of bags have their advantages and disadvantages. If you care about convenience and versatility, then a standing bag like Century kicking bag, Century BOB xl and Ringside Elite Free Standing may be the best choice for you because it has more advantages for every athlete.
However, if you are a professional athlete and can arrange an environment like a gym without compromising on you and your family sfety , then some top heavy hanging bags may also be a good choice.
Frequently Asked Questions